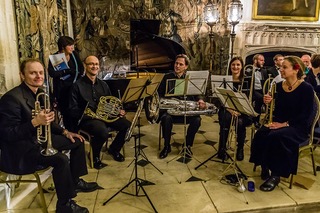 Thrill to the sound of brass in the fine acoustics of this wonderful church with Wallscourt Brass Quintet playing music ranging from Gabrieli and Handel to Peter Warlock and George Gershwin.
Wallscourt Brass Quintet consists of Ailsa Bailey and Stephen Bodiley on trumpets, Dave Gee on horn, Alice Bodiley on trombone and Philip Chidgey on tuba. For this concert, it is joined by John Bodily on organ.
Teas served from 3.00 pm. The concert starts at 3.30 pm. The church is open all day and features an interactive exhibition about the Monmouth Rebellion and the Battle of Sedgemoor, 1685.