Saturday 17th March
Concert at Temple Methodist Church, Taunton at 7.30pm.
A programme entitled 'Light Up!'
The Phoenix Singers – Music Director Andrew Maddocks with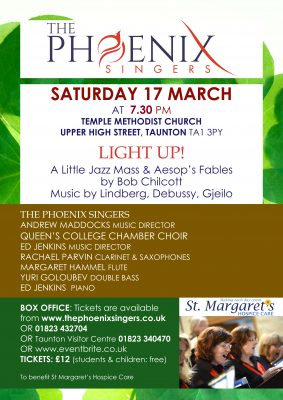 Queen's College Chamber Choir – Music Director Ed Jenkins present a gala concert to benefit St Margaret's Hospice Care.
The concert will feature contemporary music including 'A Little Jazz Mass' and 'Aesop's Fables' by Bob Chilcott.  Other works include 'Evening Prayer' and 'Prelude' by the Norwegian composer Ola Gjeilo and a setting of a Shakespeare Sonnet by Swedish composer Nils Lindberg.
Tickets £12 are available from:
Taunton Visitor Centre
01823 432704