Taunton Sinfonietta's Chamber Ensemble Series, now in its sixth year, continues at St James Church Taunton on Saturday 7 May at 7:30 pm. This season sees a return to its origins with oboist Lynn Carter bringing her skills to some marvellous Mozart, a fabulous Finzi Interlude and a bit of Bax.
She is joined by Sinfonietta Musical Director and Leader Mary Eade, Principal Second Violinist Anna Cockroft, violinist and composer Sarah Wormell playing viola, and Divertimento impresario Vicky Evans on cello.
These five musicians come together in the South West from widely diverse backgrounds, from Dartington to Freiburg to Chicago and of course London, and bring a wealth of experience to perform at the highest standard.
The programme features mostly Mozart – his Hofmeister quartet op. 499, the popular oboe quartet and a duet for violin and viola.
Gerald Finzi's dramatic Interlude for oboe and string quartet and a quick Irish jig by Arnold Bax round out an attractive, not-too-serious evening. Potted intros by each of the players provide further musical background and a glimpse into the personalities behind the instruments.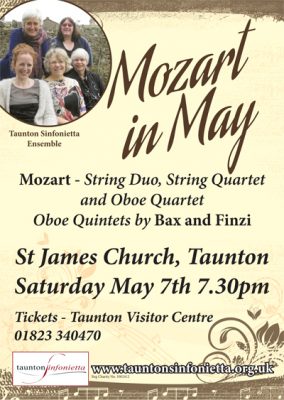 Tickets are available at the Taunton Visitor Centre and on the door. For more information about Taunton Sinfonietta check out their website at https://www.tauntonsinfonietta.org.uk
£15 /Patrons,Friends £12 / Students £5