A joint programme – Taunton Choral Society with St Mary Magdalene Choir – raising money for St Mary's organ fund.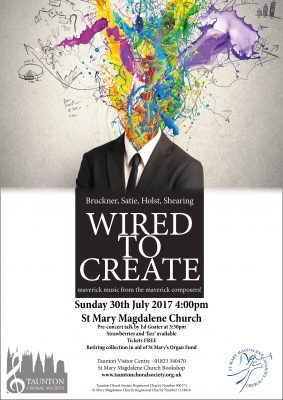 A summer afternoon with music from composers who dared to be different – Shearing, Satie, Bruckner and Holst.
Enjoy strawberries and 'fizz' while you listening to Ed Goater's pre-concert talk at 3:30pm before the concert at 4pm.
Tickets are free available from Taunton Visitor Centre (01823 340470) or from St Mary's Bookshop – do be sure to get your tickets so we know you're coming and so we provide enough strawberries and 'fizz'!