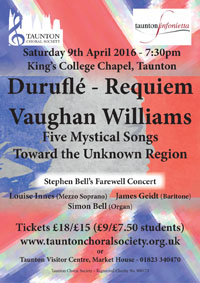 This will be Stephen Bell's final concert with TCS before he retires as Music Director after 7 years in charge. Taunton Sinfonietta provide the orchestra and soloists will be Louise Innes (mezzo-soprano) and James Geidt (baritone).
The concert will feature the 1980 Walker organ, installed when Stephen arrived in Taunton as Director of Music at King's. The organist will be Stephen's son, Simon Bell, now Director of the Schola Cantorum Choir at Tewkesbury Abbey and Organist of Dean Close School, Cheltenham.
The programme features both French and English music starting with Maurice Duruflé's 'Requiem', composed in 1948 in memory of his father. Similar in approach to the famous Requiem by Gabriel Faure, it is based on plainsong-style melodies, and is an evocative and highly atmospheric work, ideally suited to the generous acoustic of the Chapel.
In the second half the focus switches to England. The choral items are both by Vaughan Williams; 'Five Mystical Songs' for solo baritone and chorus, based on poems by George Herbert, and 'Toward the Unknown Region', text by the American poet Walt Whitman, whose spiritually–charged writing appealed to the composer throughout his life. Elgar's popular 'Serenade for Strings' will complete the programme.
Tickets –  £15 & £18 (students half price) – from Tourist Information Centre, Market House, Taunton or through our website www.tauntonchoralsociety.org.uk