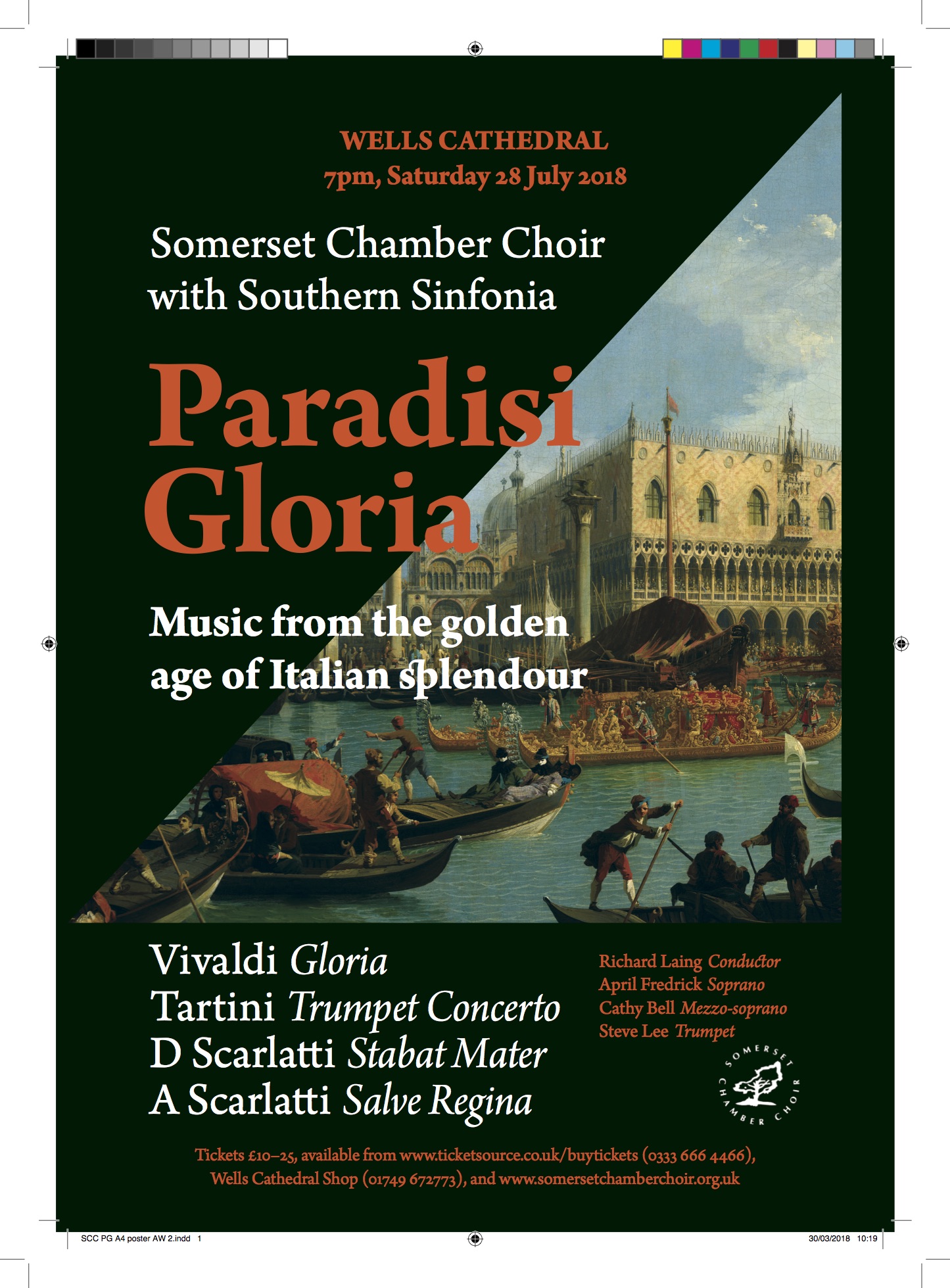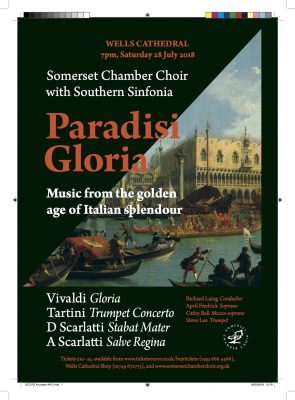 Programme Details – Paradisi Gloria!
Stabat Mater – Domenico Scarlatti (1685-1787)
Salve Regina In F minor – Alessandro Scarlatti (1660-1725)
Trumpet Concerto – Giuseppi Tartini (1692-1770)
Gloria in D RV589 – Antonio Lucio Vivaldi (1678-1741)
The early eighteenth century was a golden age for music in the courts and cathedrals of Rome, Naples and Venice, which would never again be equaled. Venice, in particular, was a hotbed of creativity. This was the city where Vivaldiand Scarlatti lived close by Canaletto, amidst the canals which had recently been navigated by Gabrieli and Monteverdi, Bellini, Tintoretto and Veronese.
The four works in our summer concert were all written within a single decade by Italian composers at the height of their powers, and yet each is as different from the other as the works of Brahms and Wagner. Vivaldi's famous Gloria, one of the most popular of all choral works, is deceptively simple, written for just two soloists and four choral parts, while the astonishing Stabat Mater by Domenico Scarlatti is composed for ten different voices, ensuring a richness of sonority which few other composers have attempted. Completing our programme will be the short, but perfectly-formed Trumpet Concerto by Tartiniand a gorgeous Salve Regina by the young Scarlatti's father, Alessandro Scarlatti, which features our two vocal soloists – the young American soprano April Fredrick and baroque specialist mezzo-soprano Cathy Bell.
For  this very special evening we will be joined by Southern Sinfonia and trumpeter Steve Leein the generous acoustic of Wells Cathedral. Let us whisk you away to experience the glories of Italy, without the check-in queues and eye-watering prices. Reserve your ticket now!
Tickets: £25, £20, (nave reserved), £15 & £10 (front/rear side aisles unreserved). Children/students half-price.