'Rejoice the Lord is King'
A Celebration of Saviour and Sovereign for the Queen's 90th Birthday weekend.
Sunday 12th June at 4 pm.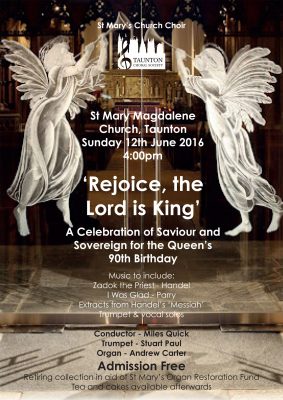 A sequence of music associated with royal occasions including Handel's Zadok the Priest, Parry's I was glad and the 'Hallelujah Chorus', with trumpet and vocal solos.  Choir drawn from St Mary Magdalene Choir and Taunton Choral Society.  Stuart Paul Trumpet,  Andrew Carter Organ,  Miles Quick Conductor.
Retiring collection in aid of St Mary Magdalene Organ Restoration Fund.  Tea and cake available afterwards!